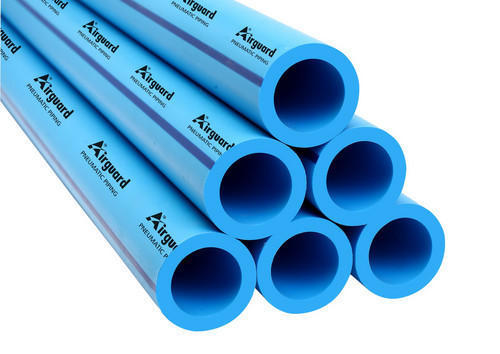 Product Description
1 ) AIRGUARD PPR-CT MONOLAYER PIPE
2) AIRGUARD PPR-CT FRP COMPOSITE PIPE
Fibre Composite Pipes are consist of three layers such as PP-RCT inner & Outer layer and PP-RCT Glass Fiber Mixture of middle layer
Advantages and Main Features of AIRGUARD PP-RCT PIPES
AIRGUARD PP-RCT Advanced Piping Technoloy is a new High Technology system of PP-RC Pipes, that is suitable FOR HOT AND COLD AIR APPLICATION & Systems
using High Pressure.
This special grade of AIRGUARD PP- RCT FRP helpful like very less thermal expansion, friction loss compared to other polymer pipes. Through this enhanced version OF AIR GAURD THERMOKING PPR-CT FRP INDUSTRIAL PNUEMATIC has manufactured for preventing PRESSURE DROP and saving energy for compressed air and all kind of pneumatic applications.
FEATURE
Available in Blue colour, International Colour code For Pneumatic Piping as per DIN8077/8078 and EN ISO 15494:2015

100% Leak Free Joints For life time, Energy saving

Non Corrosive, High impact strength 110 deg c

Controlled Thermal Expansion for Compressed Air line,
Reduced line sagging.
Hot and Cold Air Application, Available Up to 25kgf/cm2
(2.5 Mpa)
Replacement for Metal Pipes, Cast Effective

Strong, UV Stabilized And Long Lasting

Light Weight And No Maintenance

Eco- Friendly, Food Grade and Non-Toxic.
Reduced Costs
"Reduced Systems Cost" : Maintain water flow using a higher percentage of smaller sized pipes.
PP-RCT Pipes have 18% Reduced Wall Thickness to compare PPR Pipes, this respectively increase the inside area of the pipe.

So that we can replace a certain percentage of smaller size pipes with equivalent flow rates of larger Size of PP-R pipes.

This will help us to Reduce Pipe System Costs, Pipe Insulation Costs & Labor Costs.

Example: ɸ 75 mm SDR 6 PP-R Pipes can be Replaced with ɸ 63mm SDR 7.4 PP-RCT Pipes.
WHY AIRGUARD PPR-CT FRP Industrial Pneumatic Pipes COMPARE TO PPR
Improvement in Mechanical Properties,
PP-RCT Working Up To 110*C Temperature,
Reduce Thermal Expansion Up to 70%
PP-RCT Pipes have 18% Reduced Wall Thickness to Compare PPR Pipes,
PP-RCT Have greater flow rate from 14 to 17% compare to normal ppr composite pipes.
PP-RCT FRP Have lesser clamp support to Compare PPR Pipes.