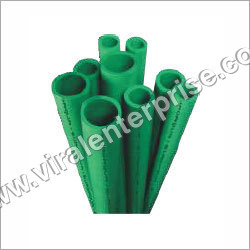 Product Description
PPR Pipes

We are manufacturing exceptional quality PPR Pipe using finest grade PPR (Polypropylene Random Co-Polymer) material and advanced technology. This pipe is commonly used in building construction site. We provide it in various shapes and dimensions that too at attractive price.
Important Information about PPR PIPE
Airguard & Euroaqua PPR Pipe are made depending on the various industrial requirements. Actually, this pipe is a mix of exceedingly low thermal co-efficient fiber reinforcement along with unequaled composite plastic technology. This special feature ensures that the pipe's linear thermal expansion is managed to nearly 70%. In other words, PPR Pipe line sagging is controlled in a good manner
What Is PPR PPR stands for Polypropylene Random Co-Polymer. Widely used in fittings and pipes, this thermoplastic polyolefin provides higher physical and chemical features to the pipes, increasing their durability.
Why We Need PPR PPR pipes and PPR fittings are ideal for domestic as well as industrial cold / hot water applications. Due to the combination of low cost and top quality, these are also used in chemical and compressed air lines.

When We Need PPR Pipes These pipes should be used in scenarios where the piping and fittings are needed to last for very long, even in complex conditions. These pipes are ideal for transferring hot as well as cold water without any kind of deviation.
Where We Need PPR Pipes: Following are some of the areas, where our high quality PPR Pipe find their use:
Advanced piping
Hot water applications
Water tight systems
Anti-corrosive and anti-chemical material is required for water transfer
No encrustation tendency is required
Noise dampening plastic material is needed
Long term pressure resistance applications
Leak-proof piping & fitting is required

Advantages of PPR Pipe
Excellent resistance against chemical.
Excellent ESCR (Environment Stress Cracking Ratio)
Food grade, non toxic and hygienic
Good welding property that ensures energy savings and leak proof joints
High impact strength and good heat stability
Line sagging is properly controlled.
Low thermal conductivity. These pipes need very thin insulation or even no insulation when used in hot water and cold water/ chemical applications.
No noise, less friction and smooth inner surface.
Strong resistance to acids, corrosion and chlorides.
Thermal expansion is well controlled by seventy percent.
Applications Areas of PPR Pipe:
Air conditioning and Cold Water Application
Compressed Air Lines for Cold and Hot Air
ETP ( Effluent Treatment Plants)
Food and Pharmaceutical Applications
R.O. Water Pipeline.
Swimming Pools and Ship Buildings
Transportation of aggressive fluids & chemicals
Under Flow Heating and Solar Heaters
Vacuum Pipelines
Chemical Resistance:
Note : Users are advised to make their own tests to ascertain the suitability of Polypropylene in the particular environment.
Plumbing System, Lifeline of a House or an Industry:
Euroaquappr: A successful product can be characterized as one which perfectly meets the demands of key members of the value chain.
Euroaquappr: PP-R Pipes for plumbing & heating applications are an excellent example.
Euroaquappr: It provides converters ease of processability to both pipes and fittings, to system suppliers patented colours, to installer superior weldability, and to the building owner no odour and taste influence, excellent environmental result and long service life.
PPR Transport & Handling:

Handle the products with normal care. One should not install PPR Pipes & fittings with imperfections.

PPR Exposure to UV Rays:

It is suggested to perform some protective outer coating/outer layer/avoid direct exposures of sun light.

PPR Bending

Large bends can be produced through cold forming. If the radius of bend is shorter than 8 times of the pipe diameter, it is recommended to heat up the concerned part through a hot air blower.

PPR Threaded Joints

PTFE or allied products can be used to ensure tightness.

PPR Welding

Only chemically related material is required to be welded. Therefore, Polypropylene and Polyethylene should not be welded. For same material, the products to be welded should have about same fusion index.

PPR Support

The PP-R Pipes are not free-standing, so it is essential to support them at specific distances.

PPR Pipe Cutting

Cuttings should be performed using tools, which create a clean cut free from burrs, and perpendicular to the axis.

PPR Low Temperatures

At temperatures below 0 degree C, following measures should be taken:

Carefully cut the pipe
Check the cut made
Avoid excessive strains and impact
Not to make vary narrow radius elbows

In the presence of cold draughts, welding should be executed in protected areas to avoid fast cooling of the surfaces.
Indoor cold & hot water plumbing pipe & fittings / pipe selection chart.
The table shows the allowable working pressure for pipes with various pressure class under specific temperature and work-life.
Under normal condition & work pressure, the EUROAQUA PPR – Pipe system life can reach 50 years at least.
PPR Pipe Vs Other Pipe
| | | | | | |
| --- | --- | --- | --- | --- | --- |
| Properties | PP-R | GI | Copper | PE | CPVC |
| Service life(years) | 50 years plus | 2-5 years | 10-25 years | 20-30 years | 20-30 years |
| Temperature resistance | Very good | Excellent | Excellent | Good | Good |
| Food grade | Excellet, Hygienic | Non-Hygienic | Non-Hygienic | Good | Non-Hygienic |
| Heat loss | Negligible-Very | Very high | Very high | Moderate | Moderate |
| Chemical resistance | Excellent | Very weak | weak | Good | Good |
| Maximum safe working Temp C | 100 | high | high | 80 | 80 |
| Easiness in repair/maintenance | Easy/Nil | Huge cost | Huge cost | Expensive | Expensive |
| Corrosion/Abrasion resistance | Excellent | Very low | Very low | Good | Moderate |
| Friction factor | Very low | high | high | Low | Low |
| Reliability | Very good | poor | Ok/expensive | Average | Average |
| Joint reliability/leak proof(max: 100, min:0) | 100 | 0-50 | 0-50 | 0-80 | 0-80 |
| Jointing method | Simple heat fusion | Conventional | Conventional | Butter fusion | Special solvent chemical |
| Jointing skill | Very simple and can be done by unskilled labour | Needs skilled labour | Needs skilled labour | Needs skilled labour | Needs special attention and skilled labor |
| Jointing time | Few seconds | Few hours | Few hours | Few minutes | Few minutes |
| Jointing life commissioning | Immediate | 24 hours | 24 hours | Few hours | 24 hours |
| Easiness in fittings | Very easy | Difficult | Difficult | Easy | Easy |
| Laying(Easiest=100 and hardest=0) | 100 | 0-50 | 0-50 | 0-80 | 0-80 |
COMPARISON OF PPR VS CPVC:
| | | |
| --- | --- | --- |
| Property | CPVC | PPR |
| Impact Strength | 1.0 - 5.6 | 1.1 - 14.0 |
| Joining Method | Special Solvent Cement | Simple Heat Fusion |
| Vicat Softening Temp. °C | 110 | 130 |
| Maximum Safe Working Temp., °C | 85 | 95 |
| Joining Time | Few minutes | Few Seconds |
| Friction Factor | Low | Very Low |
| Specific Gravity gms/cm3 | 1.49 - 1.58 | 0.9 |
| Water Absorption (%) Maximum | 0.15 | 0.03 |
| Joining Strength | Surface Homogenity | Thorough Homogenity |
| Chemical Resistance | Average | Very High |
| Service Life - Years | 30 - 40 | More than 50 Years |
| Relability | Good | Very Good |
| Hygenic Property | Average | Very Good |
| Joining Skill | Needs Special Attention & Skilled Labour | Very Simple & can be done by unskilled Labour |
| Joining Line Commissioning | 24 Hrs | Immediate |
Suitable Continuous Working Pressure of PPR Pipe At Various Operating Temperature And Pressure:
SDR 11/ PN10
SDR 7.4/ PN16
Temp
Pressure
Temp
Pressure
0C
Mpa
Kg/cm2
0C
Mpa
Kg/cm2
10
1.91
19.1
10
3.02
30.2
20
1.63
16.3
20
2.58
25.8
30
1.37
13.7
30
2.17
21.7
40
1.15
11.5
40
1.84
18.4
50
0.98
9.8
50
1.55
15.5
60
0.82
8.2
60
1.28
12.8
70
0.62
6.2
70
0.98
9.8
80
0.39
3.9
80
0.62
6.2
95
0.27
2.7
95
0.41
4.1
SDR 6/ PN20
SDR 5/ PN25
Temp
Pressure
Temp
Pressure
0C
Mpa
Kg/cm2
0C
Mpa
Kg/cm2
10
3.8
38
10
4.78
47.8
20
3.24
32.4
20
4.09
40.9
30
2.73
27.3
30
3.44
34.4
40
2.3
23
40
2.9
29
50
1.95
19.5
50
2.46
24.6
60
1.62
16.2
60
2.04
20.4
70
1.23
12.3
70
1.55
15.5
80
0.77
7.7
80
0.98
9.8
95
0.52
5.2
95
0.65
6.5
EUROAQUA PPR PIPES
PIPE PN10/SDR 11/ S5
Diameter
Wall thickness
Internal diameter
Water content
weight
Code
Dimension
Packing
OD
WT
ID
lit/m
kg/m
Unit
mm
mm
mm
EA001
20mm
75
20
1.9
16.2
0.206
0.107
EA002
25mm
50
25
2.3
20.4
0.327
0.164
EA003
32mm
30
32
2.9
26.2
0.539
0.261
EA004
40mm
20
40
3.7
32.6
0.835
0.412
EA005
50mm
15
50
4.6
40.8
1.307
0.638
EA006
63mm
10
63
5.8
51.4
2.075
1.01
EA007
75mm
5
75
6.8
61.4
2.961
1.41
EA008
90mm
5
90
8.2
73.6
4.254
2.03
EA009
110mm
3
110
10
90
6.362
3.01
EA010
160mm
1
160
14.6
130.8
13.437
6.38
For Complete Range of PPR Pipe : DOWNLOAD PDF