PPR FRP Pipe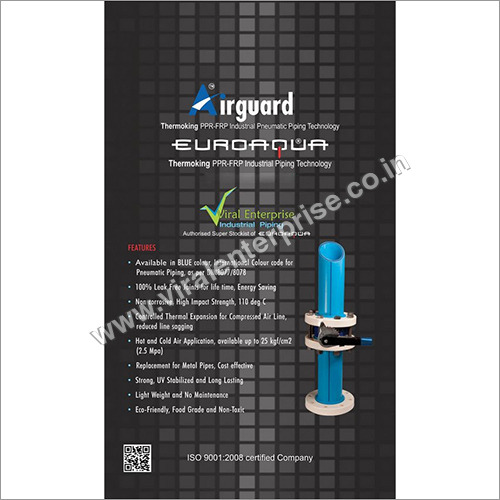 PPR FRP Pipe
Price And Quantity
Product Specifications
20 to 355 Millimeter (mm)

Blue
Product Description
With our hardworking and passionate professionals , we are capable of providing an outstanding range of PPR FRP Pipe. This pipe is used for transporting water and other fluid materials from one part to the other. Made from optimum quality raw materials and the latest machinery, this pipe is tested by experienced professionals before delivering at clients' end. The provided pipe is available in numerous sizes and finishes as per clients specific requirements. Moreover, this PPR FRP Pipe can be purchased from us at a marginal price range.

Features:
Easy to fit
Sturdy design
Precise dimensions
Durable
PPR FRP Pipe
We are offering a wide range of Compressed Air Piping System. Our Compressed Air Pipe Installation service is highly appreciated by our clients. We Introduce a innovative Product With our Continuous R&D PP-R Thermo king FRP Industrial Pipes (composite FRP Middle layer) which give a Clear Aesthetic View And Better Temperature Resistance.
International Color Code: Blue
PP-R Description : Advanced Piping System
What Is PP-R ?
PP-R stands for Polypropylene Random Co-Polymer, it is a thermoplastic polyolefin. This material is extensively used in the pipes and fittings that have high chemical & physical properties to enhance their durability.
Why We Need PP-R ?
PP-R made pipes & fittings are perfect to be used in domestic and industrial cold as well as hot water applications due to their superior quality & availability at affordable rates. Some industrial applications where these are used include chemical and compressed air lines.
When We Need PP-R?
Firms expecting long term performance of their pipings & fittings, even in the adverse conditions, need to use PP-R. Products made with this material stand upto your quality expectations and transfer your hot & cold water without deviations.
Where We Need PP-R ?
Following are some of the areas, where our high quality PP-R find their use:
Advanced piping
Hot water applications
Water tight systems
Anti-corrosive and anti-chemical material is required for water transfer
No encrustation tendency is required
Noise dampening plastic material is needed
Long term pressure resistance applications
Leakproof piping & fitting is required
Precautions:-
Transport & Handling: PP-R made pipes & fittings are suggested to handles with care as a little defect can make these waste and imperfect to install.
Exposure to UV Rays- Experts holding rich knowledge about PP-R products recommend to use these after applying a protective outer coating/ layer with main aim to avoid direct exposure to sun light.
Bending: Cold Forming method is applied to get high quality large bends. In case the bend has 8 times shorter radius than the diameter of pipe then it is suggested to heat up its part with the aid of hot air blower.
Threaded Joints: For having excellent tightness, it is recommended to use PTFE or similar products.
Welding: Welding is suggested to be done only of chemically similar materials, hence all the polypropylene and polyethylene material should be avoided to weld. In case the materials are same of the products that are going to be weld, it must ensure that they have almost the same fusion index.
Support: Pipes & fittings made up of PP-R are not self contained and highly suggested to use after giving support at specific gaps.
Pipe Cutting: To have perfection in result, PP-R made products are suggested to be cut with the aid of professional cutting tools. Use of such specialized tools ensures cuts that are free from burns and perpendicular to the axis.
Low Temperature: If you are going to use PP-R pipes below 5 degree Celsius, following are some of the precautions that are suggested to be taken:
Cut the pipe with attention
Check the cut made
do not make elbow with narrow radius
Avoid occurring impact & excessive strains
In the cold draughts to avoid quick cooling of surface, all the welding tasks of PP-R must be carried our in protected areas.
Testing Facility Available:

We have well equipped in house testing facility for the control of quality by:

Testing of incoming raw materials and additional
Inspection and testing during production as per standards
Final inspection and dispatch
Periodical calibration of testing equipments.
PP-R vs Other Products

| | | | | | |
| --- | --- | --- | --- | --- | --- |
| Properties | PP-R | GI | Copper | PE | CPVC |
| Service life(years) | 50 years plus | 2-5 years | 10-25 years | 20-30 years | 20-30 years |
| Temperature resistance | Very good | Excellent | Excellent | Good | Good |
| Food grade | Excellet, Hygienic | Non-Hygienic | Non-Hygienic | Good | Non-Hygienic |
| Heat loss | Negligible-Very | Very high | Very high | Moderate | Moderate |
| Chemical resistance | Excellent | Very weak | weak | Good | Good |
| Maximum safe working Temp C | 100 | high | high | 80 | 80 |
| Easiness in repair/maintenance | Easy/Nil | Huge cost | Huge cost | Expensive | Expensive |
| Corrosion/Abrasion resistance | Excellent | Very low | Very low | Good | Moderate |
| Friction factor | Very low | high | high | Low | Low |
| Reliability | Very good | poor | Ok/expensive | Average | Average |
| Joint reliability/leak proof(max: 100, min:0) | 100 | 0-50 | 0-50 | 0-80 | 0-80 |
| Jointing method | Simple heat fusion | Conventional | Conventional | Butter fusion | Special solvent chemical |
| Jointing skill | Very simple and can be done by unskilled labour | Needs skilled labour | Needs skilled labour | Needs skilled labour | Needs special attention and skilled labor |
| Jointing time | Few seconds | Few hours | Few hours | Few minutes | Few minutes |
| Jointing life commissioning | Immediate | 24 hours | 24 hours | Few hours | 24 hours |
| Easiness in fittings | Very easy | Difficult | Difficult | Easy | Easy |
| Laying(Easiest=100 and hardest=0) | 100 | 0-50 | 0-50 | 0-80 | 0-80 |
Trade Information
Yes

Contact us for information regarding our sample policy